I'm taking the plunge, I'm going to start sharing monthly goals on the blog. I've mentioned before how I feel like putting things on here makes me feel more accountable and it makes ideas more concrete. Since I'm in a bit of a transition, and don't have a lot of structure to my days, I feel this will be really good for me. Time continues to be a tricky lady – my days seem to fly by even more now. When working 8-5 sometimes I could swear it was 3pm and it would only be 11, but now it's 8am and I'm saying goodbye to P, and in a blink it's already 3 and I'm wondering what I managed to get done. It will be good to look back at what I get done with all my "free" time.
My big picture goals during my time off are:
Get into a fitness routine
I really want to make exercise a more focused part of my daily life. I'm not sure I will ever be one of those super into fitness people. I think I like drinking and eating too much for all that jazz, but I can do better. P and I are healthy, and we are lucky for that. We need to make sure we are doing everything we can to keep it that way. From what I hear exercise is an important part of that. Are we sure it's not a ploy by the yoga pant industry? No, oh, ok, just checking 😉
Develop new skills
I'm working on what direction I want to go in job-wise. I'm still trying to figure it all out, but I think exploring new skills is a good start.
Grow this blog
I really want to put myself back into this space. I have a whole list of things I want to do with the blog and now is the time to make that happen.
This month I want to:
Do yoga or run/bike at least 3 times a week
Complete 5 design/code Skillshare classes
Take at least one photography class
Finish website redesign
I'm linking-up with Melyssa at the Nectar Collective to share my monthly goals
I'm also joining in the Choose Your Own Adventure link-up. The October theme is food…I can't pass up a food theme 🙂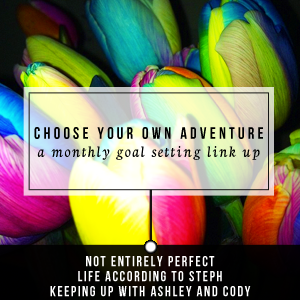 My food related goals are:
Try making chia seed pudding, this is something I've been wanting to try for ages
Make fresh pasta
Make something with pumpkin (to at least acknowledge the season)
I'm keeping my food list short, mainly because my real goal is to try as many new restaurants as I can 🙂 Check out my Discovering San Diego posts where I let you in on all my new adventures!