November flew by!!! Seriously, I'm sitting here scrambling because I thought I had one more week to write this post!? 🙂 Having more specific goals in November was definitely better, though I was not all that productive. So let's see how I did:
Complete new about page for the blog
Yep, didn't do that. I collected some good examples/ideas just need to figure out what I want to do for mine.
Complete category designs for the blog
Nope not this one either. I've played around with a few designs, my big hold up is what categories I want displayed.
Do two exercise classes a week either at home or elsewhere (1 hour)
2.5/4. Did nothing this last week of Thanksgiving..oops and another week I only did two 30 minute ones.
Take Sam for a mile or more walk at least once a week
3/4. Did much better about walking Sam. I'm not sure we went over a mile on a single walk the second week in November but I got him out more.
Take 2 photography classes
No. I read a number of posts/guides on photography and took one Skillshare class (this one), though it was not technical and I need technical.
Finish at least three Skillshare classes and two projects from past classes
No.  I started two photo editing classes (but have not finished) and restarted this Illustrator course and the project that goes with it.
Do one off computer skill, either sewing, knitting, or drawing project/class
I started knitting, and just got supplies to start my first project. Here is Eddie enjoying some of my practice 🙂
I started (or restarted), "You Can Draw In 30 Days"
For the Choose Your Own Adventure Challenge, the theme was "Organize".
I was able to complete this one! Ordered this chair (P put it together), hung pictures, and finished unpacking a few items…still not perfect but much better! Oh, that big box? It's the the coffee table I've been waiting on since September, and it's not what I ordered! I'm so upset over this and still waiting on the Etsy shop to reply about the problem. Other than the box, I think we could use some more pictures, and I need a bit more organization. Still, it is a much more useable space now!
Not the most successful November, but onto a new month.
December Goals
Finish one knitting project
Plan/book a trip
Renew passports
Finish 3 Skillshare classes
Start practicing with the camera in manual mode
Complete at least 5 more chapters in "You Can Draw In 30 Days"
Finish re-do of about page
Go to at least one yoga class and continue to do two one-hour classes a week
I'm linking-up with Melyssa at the Nectar Collective to share my monthly goals.
December's Choose Your Own Adventure Challenge is "Simplify". P and I don't over do the whole Holiday thing so nothing really there. I'm going to choose to try to de-clutter my personal inbox and unsubscribe, unsubscribe, unsubscribe. It would be nice to start the new year with less electronic clutter.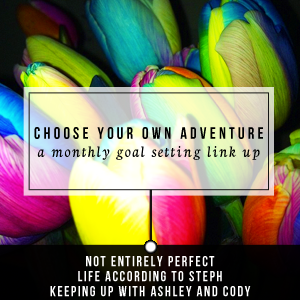 What are your goals this month?