The first month of the new year!! Oh, how to start out this year?? I always feel so much pressure, but I also like the feeling of a fresh start. I'm going to just stick with my January goals for this post and will do a yearly goal post in the future. I'm still trying to figure out what I want from 2015…I don't want to rush it. I took the plunge and purchased the Leonie Dawson workbook, I wanted to start that to apply it to my  yearly goals, but I'm still waiting on delivery. Anyway, I will be sharing yearly goals but I'm just not ready yet 🙂 Let's see how I did on my December goals and see what I want out of January….
Finish one knitting project


Did it!! Finished this headband, even though it has some mistakes, it's completed (here is the pattern and what it looked like completed). I also learned how to seed stitch and did a washcloth. I highly recommend learning to seed stitch as a beginner because it really teaches you about where you need to position the thread when knitting.
Plan/book a trip
No…I need to get it together…maybe that is what P and I can work on over the New Year's break.
Renew passports
Yes!!
Finish 3 Skillshare classes
1/3
Edit like a Pro: Introduction to Photoshop for Photographers by JP Danko
This class was ok but not great. I just felt like I wanted a little more from it in terms of techniques. I liked the concepts covered but felt a little more information could have been given about when he uses xyz. He did move through concepts fairly quickly and kept the lessons concise. 
Start practicing with the camera in manual mode
I decided to just dive in…I don't know what was stopping me…it was silly to avoid manual. I did the title picture for 3 Holiday Drinks post (and a few others) in manual and had such a fun time playing around with it.
Complete at least 5 more chapters in "You Can Draw In 30 Days"
Yes!! I'm really enjoying it…but i need a better eraser, which of course I never think about when I'm out so I broke down and ordered from Amazon yesterday. Here's a little snapshot…don't judge too harshly!

Finish re-do of about page
See below 🙂
Go to at least one yoga class and continue to do two one-hour classes a week
No, but…I actually changed my strategy a bit and decided to start the Erin Motz 30 day yoga challenge and it's been great. It's perfect for the beginner. It gets you slowly into moving your body and getting a routine down. If I'm feeling good I do two classes or if I'm not feeling it, I do one and tell myself it's only 20 minutes.  I know it doesn't seem like much, but I actually can feel a difference and I'm sticking with it, and that is what matters right now. I want to get myself into wanting to exercise and this is helping.
For the December Choose Your Own Adventure Challenge of Simplify…
I used Unroll.me to clean up my personal email box and had 235 subscriptions!?! I also cleaned out my blog inbox, and it feels so good not to have all that inbox clutter. I'm trying to keep on top of it and not let it build up again. I deleted thousands of emails!
 January Goals
Use my planner and get posts for the next three months planned. Ideally, I would like to have all non-travel, non-goal posts already drafted.
Write out yearly goals, and work on the Dawson workbook.
Start the 365 Photo Challenge. I'm going to take the plunge! I  think this is the perfect way to get more photo practice in. Maybe I'll even take some non-food photos 🙂 I was thinking about doing a month or two of manual only pictures for part of it…just for kicks. I'm sure I will be sharing at least some on Instagram if you want to follow along!
Finish 3 Skillshare courses.

Start a new knitting project…socks or different style headband.
Finish you can Draw in 30 Days.
Continue at-home yoga practice (minimum 4 days a week) and again try to go to at least one class at a studio.
Work with P on yearly goals… like travel 🙂
Book San Diego whale watching tour
Complete at least one new graphic design project
I'm linking-up with Melyssa at the Nectar Collective to share my monthly goals.
For the Choose Your Own Challenge, January is "Complete"–What's that item that travels from to do list to to do list, never getting completed? Do you always start a monthly fitness or photo challenge and never finish it? This is your time! Your month to cross it off the list for good.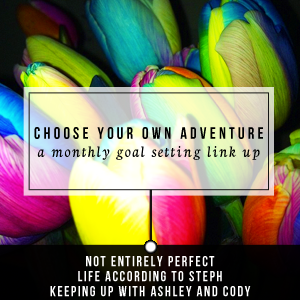 The "About" page…which you guys well know has been on the to-do list for a while!!
Work on or finish two more items off my 101 list…clearly those have been there a while too 🙂
What are you working on this January?? Who else wants to do the 365 Photo Challenge…anyone, anyone 🙂