With Valentine's Day coming up and the stresses of winter, now is a great time to DIY your bearded guy a gift of some beard oil. Or if you're a bearded guy, you can treat yourself to a DIY bottle 🙂  It's super, super, easy to make!! Like seriously, just pouring some oil into a bottle. You can do that! The oils can be used for other DIY beauty projects (like Face Oil). This oil smells good, soothes skin, and softens beards. It's been P approved. This oil works well for the non-bearded guy too (or on non-bearded parts,like your forehead), just a drop or two will do to sooth and moisturize.
The below recipe is very flexible, and you can substitute out many of the oils for ones you have on hand or want to try. I'll give you some alternatives after the recipe. The fun part of making your own products is that you can experiment and find what works best for you. This beard oil is very light, P wanted a beard oil that was not too "oily" or "rich" feeling. This absorbs quickly and is light feeling. This recipe is for 30 ml of beard oil (⅛ cup or 2 tablespoons worth), for storage in an 1 oz sized bottle. A glass colored bottle with a dropper is ideal. It's best if used right after the shower or washing the face, while the beard is still damp.
Sandalwood DIY Beard Oil
15 ml jojoba oil
5 ml argan oil
5 ml apricot kernel oil
5 ml sunflower seed oil
5-10 drops sandalwood essential oil
Measure out the above EXCEPT for the essential oil into a pourable container. I use this handy-dandy measuring cup, it works perfectly. Once all the oils are measured, pour into a clean glass bottle. I just pour it straight in but you could also use a small funnel if you are not steady handed. Next drop about 5 drops of essential oil straight into the bottle, shake, smell and add more as wanted (don't go over 15 as a general rule).
Simpler (less expensive) Version
Most of the above can be found in the drugstore or Whole Foods, but below is an even simpler version:
15 ml jojoba oil
5 ml olive oil (argan is easy to find and better than olive but the olive oil is less expensive and most likely to be on hand)
10 ml sunflower seed oil
3-5 drops rosemary essential oil (or omit altogether)
Other Notes on Substitutions: 
The jojoba oil in the recipe helps to keep it very light feeling and absorbs quickly. I would recommend keeping jojoba for the base of your beard oil because of it's unique properties. It's actually not an oil but a waxy ester, which allows it to absorb faster and is very close to the natural oils found on skin.
The argan oil is known for it soothing and smoothing benefits. It's also helps to hydrate skin and hair, and has anti-aging properties.
Sunflower seed oil is considered a light oil, and is quite beneficial. Grape oil could be substituted for the sunflower oil as a comparable replacement. For a richer finished product a heavier oil like olive or avocado could be used. You could also just replace it completely with more argan or apricot kernel oil.
Apricot kernel oil could also be replaced with the sunflower seed oil or argan. If you replace both the sunflower and apricot with the argan, your oil will be much heavier and richer than the original recipe. Other oils to use are: rosehip oil (this will give the end product a pinkish/orange hue) or meadowfoam (a bit richer than apricot).
The sandalwood can be omitted completely or be subbed for another scent. Sandalwood can be pricey, other substitutions to consider are: rosemary, cedarwood, or spruce. You can blend scents and use other scents that you like, just make sure to start out with just a few drops at a time, some essential oils are stronger than others.
While making this, rub a bit of each oil (not the essential oil) between your fingers or on the back on your hand. This will give you an idea of what I mean by heavier and lighter.
I buy most of my oils and essentials oils from Mountain Rose Herbs, you can also get the dropper bottles from them. Again, most of the ingredients can be found at Whole Foods or the drugstore. Other sources include Vitacost or Amazon.
Have you tried making your own beauty products? 
Linking up with: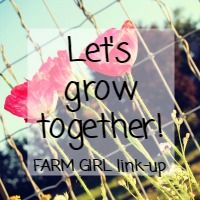 &