Per my usual mantra, this month flew by!! Basically I sucked at getting any of my goals done. This month did not go as planned, not all bad, just not as productive as I had hoped. I was sick for one week, we decided to go to Vegas (not complaining), worked on some other things, and well, then the month was over. Shall we begin my walk of shame….
Use my planner and get posts for the next three months planned. Ideally, I would like to have all non-travel, non-goal posts already drafted.
NO, NO, NO
Write out yearly goals, and work on the Dawson workbook.
Didn't get it until January 23rd…so.
Start the 365 Photo Challenge.

Did this one!! I've been posting on Instagram and really enjoying it. I did miss two days, and a few days I was fairly uninspired. My favorite 4 pictures from January are featured first: the palm tree in the brew pot, Sam, Eddie, & fallen flowers. I tried to pick things that made me happy that day or showed a glimpse of life. A bit like 100 happy days challenge rolled into pictures.
Finish 3 Skillshare courses. 
2 out of 3:
EasyDSLR: Master your Digital Camera in less than 30 days by Kenneth Schultz
I found this class SO dry. It was hard to get through, and I could not get into it. There was some good information, but it was almost too much. His presentation came across scientific in nature (at least to me).
The First Steps to Hand-Lettering: Concept to Sketch by Mary Kate McDevitt
It was neat to see her process. It wasn't that instructional in nature, more just watching her create. 
Start a new knitting project…socks or different style headband.
NOPE
Finish you can Draw in 30 Days.
Fell into the same category as knitting, a big fat NO.
Continue at-home yoga practice (minimum 4 days a week) and again try to go to at least one class at a studio.
I'm pretty proud of myself in this area. I did 4 days the first week and 5 days the next 2 weeks (this last week we left on Wednesday for Vegas so I only did one day) I've been continuing with the Erin Motz 30 Day Yoga Challenge & started 30 Days of Yoga with Adriene (thanks to Arielle for the suggestion). I even did 2 videos some days. I did not make it to a studio class, but maybe in February.
Work with P on yearly goals… like travel.
A little, but nothing definitive.
Book San Diego whale watching tour
Yes! Pictures to come next week in my Discovering San Diego post.
Complete at least one new graphic design project
I came up with the button for the new-link up I'm co-hosting with Katie from The Hungry Goat, Into The Pint Glass. I'm counting that, but I was thinking something a bit more involved/challenging when I wrote this goal. I mean, a girl has to take credit for what she can 🙂 Especially for goals she made up and no one cares about; that is when it is most important. 
I was just as unsuccessful with the Choose Your Own Challenge goals. Which is fairly laughable since January was "Complete": 
The "About" page…which you guys well know has been on the to-do list for a while!!
Almost there, it will be unveiled this week! I know everyone is just at the edge of their seats for that announcement 🙂
Work on or finish two more items off my 101 list…clearly those have been there a while too 🙂
Umm…not so much. I actually need to update that list.
Well, that was embarrassing! Oh well, onto February 🙂
February Goals
Continue with yoga! I'm enjoying it (kind of), it is still exercise, but it feels good. My goal is to get to a class, but continue at home practice. Again 4 days a week as the goal. I got a FitBit in January. So my goal with that is to do 50,000 steps a week. I know it should be 10,000 a day, but I'm starting slow.
Back to Skillshare…I'm going to stick to the magic number of 3!
Do at least one deviled eggs recipes for the blog.
Attempt to make throw pillows for the couch or buy some this month. If I can't/don't make them I will order some, no more putting it off!
Organize pictures on the computer. My pictures are out of control.
Work on the Dawson workbook. I'm a bit disenchanted with the whole thing now because it was such a long wait and hassle to get.
Get a haircut. So…I have not gotten my hair cut since we moved. I hate finding a new hair dresser! Plus I'm trying to decide, keep growing it and donate, or get it chopped off!
Buy or design phone case. We got new phones and now I need a case. I also need to sell my old phone (this is something I know I will put off) 
Buy new jeans, again this is something I need to do. I HATE shopping for jeans, HATE IT. Jeans are one of those things I really have to go try on and rarely buy online, which is by far, my preferred method of shopping.
Crack down and really start figuring out my direction. I realize this is vague, but that is the best I can do for now.
Make an effort to explore more by myself.
I'm linking-up with Melyssa at the Nectar Collective to share my monthly goals.
For the Choose Your Own Challenge, February is "Create"–Create a DIY project, a new recipe, a song, a piece of art, the start of a novel, a new list…wherever your creative mind takes you, follow it.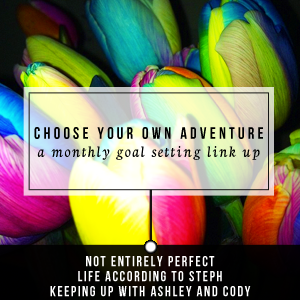 For this one I'm going back to knitting & drawing.
Start knitting socks
Finish You Can Draw in 30 Days
Also…if I actually make those throw pillows, you better believe you will hear about that!
While January was not really get stuff done I've been putting off month, maybe February will be 🙂 Many of these items have been on my list for a while.
What are your goals for February? Any suggestions on a good brand of jeans?