This is my January and February edition of Show Us Your Books, since I missed getting the post together last month. I started out picking a quote from each book that I liked, but that only lasted for the first two 🙂 I might go back to this for my March books. I love quotes and thought it might be fun to share. I did pull descriptions from Goodreads to make it a little easier to relate to my reviews and to give you an idea of what the book is about. The top title is linked to Amazon and the book cover is linked to Goodreads.
The Silent Wife by A.S.A Harrison


Told in alternating voices, The Silent Wife is about a marriage in the throes of dissolution, a couple headed for catastrophe, concessions that can't be made, and promises that won't be kept. -Goodreads
I was intrigued with the story, the who did it and how, but overall just an ok read. I finished it in about a day. I did find some of it thought provoking, in a " I would never put up with that and would some women" way. Parts of the narrative were dry and the characters were not that likeable or relatable.
"Life has a way of taking it's toll on the person you thought you were."
"Men are a race of suckers who don't realize that having sex is the biggest risk they'll ever take."
Attachments by Rainbow Rowell


Beth Fremont and Jennifer Scribner-Snyder know that somebody is monitoring their work e-mail. (Everybody in the newsroom knows. It's company policy.) But they can't quite bring themselves to take it seriously. They go on sending each other endless and endlessly hilarious e-mails, discussing every aspect of their personal lives.When Lincoln comes across Beth's and Jennifer's messages, he knows he should turn them in. But he can't help being entertained-and captivated-by their stories. By the time Lincoln realizes he's falling for Beth, it's way too late to introduce himself.-Goodreads
I enjoyed this book. The ending was great! It seems a bit drawn out at times, but it is a cute story. I enjoyed the main characters. I had a hard time placing it in Nebraska, for some reason when I started the story I thought it felt British.
"So, what if, instead of thinking about solving your whole life, you just think about adding additional good things. One at a time. Just let your pile of good things grow."
Origin by J.A. Konrath


When linguist Andrew Dennison is yanked from his bed by the Secret Service and taken to a top secret facility in the desert , he has no idea he's been brought there to translate the words of an ancient demon. He joins pretty but cold veterinarian Sun Jones, eccentric molecular biologist Dr. Frank Belgium, and a hodge-podge of religious, military, and science personnel to try and figure out if the creature is, indeed, Satan. -Goodreads
I thought it was well written, the characters were captivating and I was pulled in by the story. Towards the end I was rolling my eyes a bit, but still pulling for the characters. It was a good guilty pleasure read. I would consider reading some of his other books based on this one. I think this was one that I just randomly picked because it was available through the library.
The Magicians by Lev Grossman


Like everyone else, precocious high school senior Quentin Coldwater assumes that magic isn't real, until he finds himself admitted to a very secretive and exclusive college of magic in upstate New York. There he indulges in joys of college-friendship, love, sex, and booze- and receives a rigorous education in modern sorcery. But magic doesn't bring the happiness and adventure Quentin thought it would. After graduation, he and his friends stumble upon a secret that sets them on a remarkable journey that may just fulfill Quentin's yearning. But their journey turns out to be darker and more dangerous than they'd imagined. Psychologically piercing and dazzlingly inventive, The Magicians, the prequel to the New York Times bestselling book The Magician King and the #1 bestseller The Magician's Land, is an enthralling coming-of-age tale about magic practiced in the real world-where good and evil aren't black and white, and power comes at a terrible price. -Goodreads
It did remind me of Harry Potter. Is it at the same level as Rowling?  No, but it has that same feel and satisfies some of that fantasy craving. I enjoyed the story, and thought the book did a good job of mostly creating a world you could really imagine. Some parts were not as richly described. Overall, I liked the story and the characters. This is more grown up than Harry Potter, and not a young adult book because of some of the topic areas.
The Magician King by Lev Grossman


Quentin and his friends are now the kings and queens of Fillory, but the days and nights of royal luxury are starting to pall. After a morning hunt takes a sinister turn, Quentin and his old friend Julia charter a magical sailing ship and set out on an errand to the wild outer reaches of their kingdom. Their pleasure cruise becomes an adventure when the two are unceremoniously dumped back into the last place Quentin ever wants to see: his parent's house in Chesterton, Massachusetts. And only the black, twisted magic that Julia learned on the streets can save them. -Goodreads
I did not like this one as much as the first book. I got a bit tired of Quentin's whining and just didn't get the same feeling of depth and involvement with the characters. I also was annoyed with Julia and some of her storyline. I'm not exactly sure why, but it just did not draw me in like the first one. I feel the characters should have grown-up some since the last book, but they didn't really seem any different from the prior book. I will read the third one, because I'm a sucker for a series, but the fact that I have not yet, is telling for me.
What Alice Forgot by Liane Moriarty


So imagine Alice's surprise when she comes to on the floor of a gym and is whisked off to the hospital where she discovers the honeymoon is truly over — she's getting divorced, she has three kids and she's actually 39 years old. Alice must reconstruct the events of a lost decade, and find out whether it's possible to reconstruct her life at the same time. She has to figure out why her sister hardly talks to her, and how is it that she's become one of those super skinny moms with really expensive clothes. -Goodreads
I really enjoyed this book. I instantly fell for the main character and was rooting for her to get her "old" life back, but did feel conflicted about it. It was almost like her "prior" self came across naive. I was conflicted because, was I rooting for her less aware, less confident self? Did she forget her priorities and allow life to sweep her up into someone she was not, or was she more naive ten years ago and had she just grown-up? I was satisfied with the conclusion, and it in a way addressed both of my worries.
The One That Got Away by Simon Wood


Graduate students Zoë and Holli only mean to blow off some steam on their road trip to Las Vegas. But something goes terribly wrong on their way home, and the last time Zoë sees her, Holli is in the clutches of a sadistic killer. Zoë flees with her life, changed forever. A year later and still tortured with guilt, Zoë latches on to a police investigation where the crime eerily resembles her abduction. Along with a zealous detective, she retraces the steps of that fateful night in the desert, hoping that her memory will return and help them find justice for Holli. Her abductor—labeled the "Tally Man" by a fascinated media—lies in wait for Zoë. For him, she is not a survivor but simply the one that got away. -Goodreads
This was my least favorite read of the two months. Just wasn't a whole lot that captured me in this book. It was pretty predictable and the characters didn't seem all that well developed. A quick, mind-less read. I grabbed this one from the February Kindle First.
Miramont's Ghost by Elizabeth Hall


Miramont Castle, built in 1897 and mysteriously abandoned three years later, is home to many secrets. Only one person knows the truth: Adrienne Beauvier, granddaughter of the Comte de Challembelles and cousin to the man who built the castle. Clairvoyant from the time she could talk, Adrienne's visions show her the secrets of those around her. When her visions begin to reveal dark mysteries of her own aristocratic French family, Adrienne is confronted by her formidable Aunt Marie, who is determined to keep the young woman silent at any cost. Marie wrenches Adrienne from her home in France and takes her to America, to Miramont Castle, where she keeps the girl isolated and imprisoned. Surrounded by eerie premonitions, Adrienne is locked in a life-or-death struggle to learn the truth and escape her torment. Reminiscent of Daphne du Maurier's Rebecca, this hauntingly atmospheric tale is inspired by historical research into the real-life Miramont Castle in Manitou Springs, Colorado.-Goodreads
This was another Kindle First book. I really love Rebecca, so I thought it was worth a shot. It was good, but no Rebecca. The ending was abrupt and not exactly what I was expecting. The majority of the book takes place in France, prior to her Aunt taking her. It was on the depressing side. I liked Andrienne's character and thought her character was well developed. The other characters could have used some more rounding out to make this book better.
Wreckage by Emily Bleeker


Lillian Linden is a liar. On the surface, she looks like a brave survivor of a plane crash. But she's been lying to her family, her friends, and the whole world since rescue helicopters scooped her and her fellow survivor, Dave Hall, off a deserted island in the South Pacific. Missing for almost two years, the castaways are thrust into the spotlight after their rescue, becoming media darlings overnight. But they can't tell the real story—so they lie.-Goodreads
Predictable but a good, easy read. I like it, it captured my attention, but there wasn't too much mystery except for the very end. It felt anti-climatic. This was also a Kindle First.
I'm linking-up for Show Us Your Books, make sure to pop over and see the other book recommendations.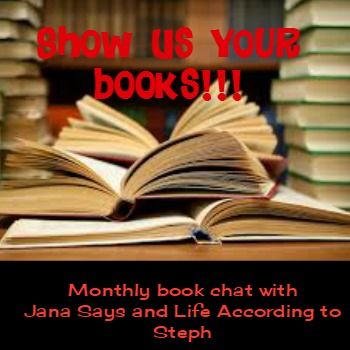 Do you have a favorite literary genre or do you read anything and everything?