This month was a good reading month for me. Mainly because so many of my holds came available this month, and I had to keep on top of my reading so I didn't miss out. I read some good books this month.
The title is linked to Goodreads and the cover is linked to Amazon. The Amazon link is an affiliated link*. I've pulled the description from Goodreads. 
Station Eleven by Emily St. John Mandel
Spanning decades, moving back and forth in time, and vividly depicting life before and after the pandemic, this suspenseful, elegiac novel is rife with beauty. As Arthur falls in and out of love, as Jeevan watches the newscasters say their final good-byes, and as Kirsten finds herself caught in the crosshairs of the prophet, we see the strange twists of fate that connect them all. A novel of art, memory, and ambition, Station Eleven tells a story about the relationships that sustain us, the ephemeral nature of fame, and the beauty of the world as we know it.-Goodreads
I LOVED this book! I want it to be a series. I want to find out more about where the lives of the characters go and what happens next. I loved the plot, the characters, the writing. This is definitely up there for books I've read lately. I do like post-apocalypse novels, so this probably is part of my enthusiasm for the book. I didn't enjoy the before parts of the story-line as much, but it added to the story. What would be the probability that all those people who were connected by that one man would survive into the post-plague world? While I was reading I had so many questions pop into my mind about society and how I would feel in that situation. Like would getting electricity/internet be a major priority? When do those modern conveniences come back into play? It's weird to think of having to re-invent so much of the world. To go from a world where everything that you ever want to know (almost) is at the touch of your fingertips, to struggling to eat and traveling on foot. I want a second book!
"No more Internet. No more social media, no more scrolling through litanies of dreams and nervous hopes and photographs of lunches, cries for help and expressions of contentment and relationship-status updates with heart icons whole or broken, plans to meet up later, pleas, complaints, desires, pictures of babies dressed as bears or peppers for Halloween. No more reading and commenting on the lives of others, and in so doing, feeling slightly less alone in the room."
"It's possible that no one who didn't grow up in a small place can understand how beautiful this is, how the anonymity of the city life feels like freedom."
"I think people like him think work is supposed to be drudgery punctuated by very occasional moments of happiness, but when I say happiness, I mostly mean distraction."
"….but then by four or five o'clock the day's just turned into yet another day, and you go on like that, looking forward to five o'clock and then the weekend and then your two or three annual weeks of paid vacation time, day in day out, and that's what happens to your life."
Six days ago, astronaut Mark Watney became one of the first people to walk on Mars. Now, he's sure he'll be the first person to die there. After a dust storm nearly kills him & forces his crew to evacuate while thinking him dead, Mark finds himself stranded & completely alone with no way to even signal Earth that he's alive—& even if he could get word out, his supplies would be gone long before a rescue could arrive. Chances are, though, he won't have time to starve to death. The damaged machinery, unforgiving environment or plain-old "human error" are much more likely to kill him first. But Mark isn't ready to give up yet. Drawing on his ingenuity, his engineering skills—& a relentless, dogged refusal to quit—he steadfastly confronts one seemingly insurmountable obstacle after the next. Will his resourcefulness be enough to overcome the impossible odds against him?-Goodreads
I loved this one too!! Another, read in a day book. I found myself rooting for Mark, and could imagine the tension that every household felt while watching this story unfold. It really pulled me in and I felt emotionally attached to Mark. If I find myself wondering about what happens next, it's usually a sign of a good book for me. Yes, there is a lot of numbers/science/math involved, but it was not presented in a overly complicated manner or boring. It wasn't pages and pages of how he figured out xyz. I loved the humor Mark presented in the story. I would certainly recommend this book to anyone.
"Duct tape works anywhere. Duck tape is magic and should be worshiped."
"…human being has a basic instinct to help each other out. It might not seem that way sometimes, but it's true… This is so fundamentally human that it's found in every culture without exception. Yes, there are assholes who just don't are, but they're massively outnumbered by the people who do."
"Maybe I'll post a consumer review. Brought product to surface of Mars. It stopped working 0/10."
The Girl On The Train by Paula Hawkins
Rachel takes the same commuter train every morning. Every day she rattles down the track, flashes past a stretch of cozy suburban homes, and stops at the signal that allows her to daily watch the same couple breakfasting on their deck. She's even started to feel like she knows them. "Jess and Jason," she calls them. Their life—as she sees it—is perfect. Not unlike the life she recently lost.
And then she sees something shocking. It's only a minute until the train moves on, but it's enough. Now everything's changed. Unable to keep it to herself, Rachel offers what she knows to the police, and becomes inextricably entwined in what happens next, as well as in the lives of everyone involved. Has she done more harm than good?-Goodreads
I held out and waited for it to come available from the library, so yay me 🙂 I think half of blogland has already reviewed this book, and I was really excited to read it. I was surprised at the number of positive reviews from so many bloggers. I liked this book, I read it in half a day. It is a pull you in story and an easy read. Since it is often compared to Gone Girl, I do think Gone Girl was a better book. The Girl on The Train didn't have as much shock factor. While I found most of the characters in Gone Girl totally unlikable and really messed up, I found The Girl on The Train characters unlikable, in a I want to shake them and say get your shit together kind of way. I'm sure I read it more critically than I would have it didn't get SO much hype and I've read many reviews on it. I enjoyed this book, but I wanted more of a shock factor.
"….as if I'm playing at real life instead of actually living it. I need to find something that I must do, something undeniable."
"I don't know where that strength went, I don't remember losing it. I think that over time it got chipped away, bit by bit, by life, by the living of it."
"There's nothing so painful, so corrosive, as suspicion."
"His strength, that protectiveness he radiates, it doesn't mean she's weak. She's strong in other ways; she makes intellectual leaps that leave him openmouthed in admiration. She can cut to the nub of a problem, dissect and analyze it in the time it takes other people to say good morning."
Big Little Lies by Liane Moriarty
Big Little Lies is a brilliant take on ex-husbands and second wives, mothers and daughters, schoolyard scandal, and the dangerous little lies we tell ourselves just to survive.-Goodreads
I felt like this was almost like a combination of The Husband & What Alice Forgot. It was a page-turner. I love how she presents the plots of her stories, her story-telling style. I think this would be a great beach read. Not super light, but the story grabs you and keeps you guessing.
" They say it's good to let your grudges go, but I don't know, I'm quite fond of my grudge. I tend it like a little pet."
"If she packaged the perfect Facebook life, maybe she would start to believe it herself."
In a small New England town, over half a century ago, a shadow falls over a small boy playing with his toy soldiers. Jamie Morton looks up to see a striking man, the new minister. Charles Jacobs, along with his beautiful wife, will transform the local church. The men and boys are all a bit in love with Mrs. Jacobs; the women and girls feel the same about Reverend Jacobs — including Jamie's mother and beloved sister, Claire. With Jamie, the Reverend shares a deeper bond based on a secret obsession. When tragedy strikes the Jacobs family, this charismatic preacher curses God, mocks all religious belief, and is banished from the shocked town. -Goodreads
I'm a big fan of King, some of my favorites of his is the Dark Tower Series and 11/22/63. This one was good, but I didn't feel really hooked until about midway through. It started slow for me. It reminded me a bit of the same story-telling style as Doctor Sleep, though I liked Doctor Sleep much more. Good, but not the best King has to offer in my option.
"He spoke with the patience of a true believer. Or a lunatic. Maybe there's really no difference."
"The three true ages of man are youth, middle age, and how the fuck did I get old so soon?"
"People have many ways to be lousy to one another, as you'll find out when you're older, but I think that all bad behavior stems from plain old selfishness."
My Sunshine Away by M.O. Walsh
In "My Sunshine Away," M.O. Walsh brilliantly juxtaposes the enchantment of a charmed childhood with the gripping story of a violent crime, unraveling families, and consuming adolescent love. Acutely wise and deeply honest, it is an astonishing and page-turning debut about the meaning of family, the power of memory, and our ability to forgive.-Goodreads
This is a hard one for me to judge. I think it was written well, but I didn't enjoy it that much. I wasn't particularly grabbed by the plot or the narrator. I thought the chapter about hurricane Katrina was so unrelated to the story, it was weird, and obviously just an aside that the author felt compelled to include, but didn't belong there. Good writing but the plot needed work.
"Once the trust is gone, you know, all of history changes. A person doesn't know what to believe."
Everything I Never Told You by Celeste Ng
Lydia is dead. But they don't know this yet . . . So begins this debut novel about a mixed-race family living in 1970s Ohio and the tragedy that will either be their undoing or their salvation. Lydia is the favorite child of Marilyn and James Lee; their middle daughter, a girl who inherited her mother's bright blue eyes and her father's jet-black hair. Her parents are determined that Lydia will fulfill the dreams they were unable to pursue—in Marilyn's case that her daughter become a doctor rather than a homemaker, in James's case that Lydia be popular at school, a girl with a busy social life and the center of every party.-Goodreads
This book was well written, but I had trouble with the storyline and characters. I just could not relate, and Lydia did feel whiny to me (I feel like a terrible person saying that). I certainly felt sorry for many of the characters throughout the story, but I was also annoyed by them on a regular basis too. To me, not a very satisfying read. It was very well written though, even if the story was not really my thing.
"Because more than anything, her mother had wanted to stand out; because more than anything, her father had wanted to blend in. Because those things had been impossible."
"How was it possible to spend so many hours spreading peanut butter across bread? How was it possible to spend so many hours cooking eggs?…It behooves a good wife to know how to make an egg behave in six basic ways."
"Before that she  hadn't realized how fragile happiness was, how if you were careless, you could knock it over and shatter it."
The River Cottage Booze Handbook by John Wright*

This is an interesting book, not exactly what I was expecting. The size is nice and it's a hardback book. It's a very thorough book. Wright goes into a lot of detail for each recipe including procedures and history, but it's almost daunting to read over the recipes. Many of the ingredients recommended are exotic, hard to find, and/or must be foraged. One example of this is the moss oak gin. I don't feel comfortable gathering moss to make an infusion with. He mentions a warning on the oak moss gin, "Although I have been unable to find any indication that oak moss is poisonous if ingested…". That phrase did not make me feel super confident. The most interesting chapter to me was the cider making chapter. I like that he goes through the process of how to make your own apple juice. This is something that we have been interested in. We have made hard cider before, but with store-bought juice. I personally like dry sparkling cider, which he mentions, but with a backhanded comment about why would anyone want to drink that. Overall, I think this book is only for the most adventurous of infuser. Most of it comes across as old-fashioned, even though the summary says, "the ultimate modern hombrewer's book". Not recipes you are going to be able to whip-up in an afternoon or after a simple trip to your grocery store. There wasn't a recipe that I could find that I wanted to attempt trying.  *I received The River Cottage Booze Handbook from Blogging for Books for this review, all opinions are my own.
What good books have you read recently?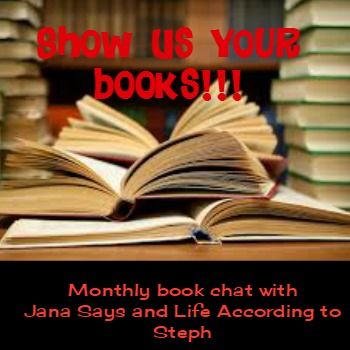 *This post contains affiliate links, which means that if you click on one of the book covers and buy the book, I'll receive a percentage of the sale. 
What's next on your to-read list or what are your reading right now?