Welcome back guys! So, let's start off about how I failed last week in my confessions, and basically came off as a whiny blogger who wants responses, but not just a thank you. I thought the Seinfeld thing would be funny, I'm really not bitter about people not responding but I'm probably not going to keep commenting forever without some response 🙂 The email confession was for work related situations, not comments!! I mean what else are you going to say to someone who says "great picture or awesome post" and a thank you is at least an acknowledgment they read your comment. Ok, now moving onto more confessions that just may make me seem even more socially awkward 🙂 Let's talk about things that either bug me or I don't understand about social media:
 Twitter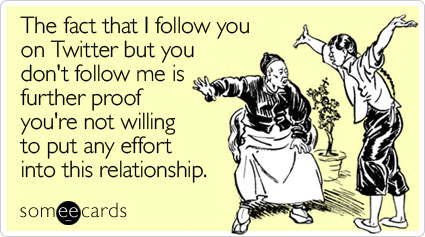 The app that posts the follows and unfollows a person has in a week. I hate these tweets, it is SO weird.
Why doesn't Twitter just shorten the damn url for you? WHY!?! I've actually started using Buffer just so it will automatically shorten urls for me.
I only started using Twitter for the blog. I've never had a personal account. I actually think it is very useful for engaging with others and getting your content out there. Before, I always assumed it was posts like "I went to the store #wheresmywallet #doritos #burritos" or "Timmy dumped oatmeal everywhere #mylittleangelcandonowrong #cutest #beingamommyisthebest"
Am I only the only one that didn't know that HT (hat tip) was a thing? Also what is #FF (Follow Friday)?
Finally, I'm glad I'm not the only one lost on some of the finer points of Twitter, as Miriam over at Farm Girl brought up some very good questions last week …p.s I have some of the same questions.  So I guess HT@MiriamVerheyden for this post inspiration 😉
Pinterest
Well, if you read this post, you would know how much I love Pinterest. So, the following rants should be taken as constructive suggestions and not criticism of my precious Pinterest.

I would really like sub-boards. I get why they don't add sub-boards, but it would be awesome! I don't want to have to create a whole new board for every destination or ingredient type.
It drives me crazy when a pin does not link to anything. It is so frustrating!
Following that up, are pins that link to pass through sites where it is hard to find the actual link to the real recipe or whatever. The spammy ones, not when someone curates a nice list.
Are hashtags really necessary for pins descriptions? I'm really asking–I don't know. When you do a search, pins without hashtags show up…so what's the deal?
Facebook
Really I don't even feel like I need to bother for this one. I'll let the cards do the talking.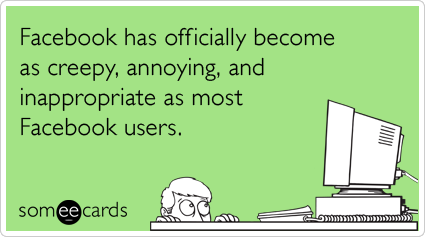 Instagram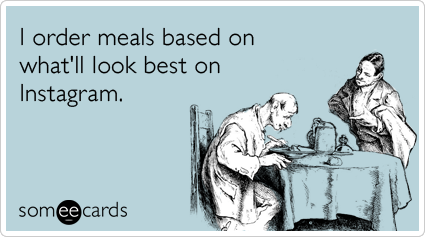 Umm…again I'm a social media LOSER and just started using it…so really I don't even know enough about it to make fun of it or ask questions about it. Sad 🙁 I do know I post too many pictures of food, but I can't help myself– some people find their true inspiration in nature, architecture, art…mine is eating 🙂 In my defense the name of my account/blog should have been fair warning 🙂
Google +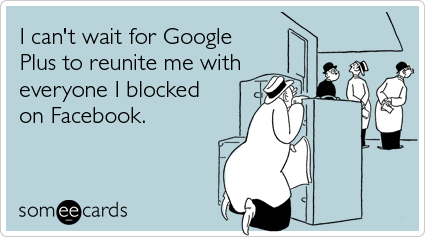 I feel it's kind of the red-headed stepchild of social media or at least the Facebook family. Though with the tide turning on Facebook, it may be the next social media star. I'm considering it still, it's one of those things on the never ending list of "to-do" for the blog 🙂
Am I the only one that is social media awkward?