It's truth time! Let's see how well I did on my October Goals:
Do yoga or run/bike at least 3 times a week
Not exactly. I made this a little too vague. Does it count as a run if I only run part of the way or bike a mile? I certainly was more mindful about getting up and moving but it was not all intentional exercise. My November goal in this area is a bit more specific. I want to be intentional about doing exercise.
Complete 5 design/code Skillshare classes
Yes, for this one. Even though I did not finish the Webmaking 101, I did do two classes in Codecademy plus the Webmaking 101 is really long.
***All of the links for Skillshare are referral links meaning if you sign up I get a free month and you can too, I do not have any affiliation with Skillshare, this is an offer to all users. I highly recommend both of Jenn's classes for a great introduction into HTML and CSS. 
Take at least one photography class
Fail, Fail, Fail 🙂 This is going back on the November goals.
Finish website redesign
Not finished but certainly made progress. I still have some work to do but I got it started. This also was too broad of a goal. Stupid, principle of SMART goals being right and all 🙂 I'm sharing specific items from my blog to-do list for November goals.
Choose Your Own Adventure Challenge~ Food
Try making chia seed pudding, this is something I've been wanting to try for ages
Tried it, here is a picture just to prove it 🙂 I'm not a huge fan. I think I'll stick with overnight oatmeal. It tasted fine, it was a texture thing for me. The texture was a bit too jello like for my taste.
Make fresh pasta
Didn't happen. I'm going to blame it on the weather. Hello, 80°F in October, that is beach time not making pasta time. Maybe this month! I would really like to make some raviolis to freeze.
Make something with pumpkin (to at least acknowledge the season)
Another total fail. We did make some yummy butternut squash lasagna and that is almost like pumpkin 😉 Right, right? Partial credit??
You can check back Thursday to see some of the other reasons I did not complete my food challenge 🙂
November Goals
My November Goals are less vague and more specific. We will see how I do with that.
Complete new about page for the blog
Complete category designs for the blog
Do two exercise classes a week either at home or elsewhere (1 hour)
Take Sam for a mile or more walk at least once a week
Take 2 photography classes, I'm doubling down on this one
Finish at least three Skillshare classes and two projects from past classes
Do one off computer skill, either sewing, knitting, or drawing project/class
I'm linking-up with Melyssa at the Nectar Collective to share my monthly goals
I'm going to join in the Choose Your Own Adventure Challenge again with this month's theme of organize. Who doesn't need more organization in their life?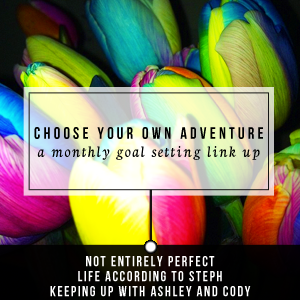 To be better organized I want to finish setting up the office:
Order desk chair
Finish hanging pictures
Finish unpacking items
What goals do you have for November?