So many books, so little time! I have so many books on hold, I can't keep up 🙂 I managed to cross-off quite a few this month and many of them were good, but depressing.
The title is linked to Goodreads and the cover is linked to Amazon. The Amazon link is an affiliated link*. I've pulled the description from Goodreads. 
The Storied Life of A.J. Fikry by Gabrielle Zevin

On the faded Island Books sign hanging over the porch of the Victorian cottage is the motto "No Man Is an Island; Every Book Is a World." A. J. Fikry, the irascible owner, is about to discover just what that truly means. A. J. Fikry's life is not at all what he expected it to be. His wife has died, his bookstore is experiencing the worst sales in its history, and now his prized possession, a rare collection of Poe poems, has been stolen. And then a mysterious package appears at the bookstore. It's a small package, but large in weight. It's that unexpected arrival that gives A. J. Fikry the opportunity to make his life over, the ability to see everything anew. As surprising as it is moving, The Storied Life of A. J. Fikry is an unforgettable tale of transformation and second chances, an irresistible affirmation of why we read, and why we love.–Goodreads
I enjoyed this book. It was sad, but it also was really great. I feel like if someone just described the plot to me, I wouldn't necessarily be overly interested. The writing was good, and the characters are what made this book…their fears, grief, happiness. It is a little funny to read a book, that is so focused around books….a bit Truman Show.
"Her talents also include multitasking, selecting the right wine at dinner (and the coordinating skill, tending friends who've had too much to drink), houseplants, strays, and other lost causes."
"Fucking love, he thinks. What a bother. It's completely gotten in the way of his plan to drink himself to death, to drive his business to ruin. The most annoying thing about it is that once a person gives a shit about one thing, he finds he has to start giving a shit about everything."
"People tell boring lies about politics, God, and love. You know everything you need to know about a person from the answer to the question, What is your favorite book?"
Dept. of Speculation by Jenny Offill

With cool precision, in language that shimmers with rage and wit and fierce longing, Jenny Offill has crafted an exquisitely suspenseful love story that has the velocity of a train hurtling through the night at top speed. Exceptionally lean and compact, Dept. of Speculation is a novel to be devoured in a single sitting, though its bracing emotional insights and piercing meditations on despair and love will linger long after the last page.–Goodreads
This was an interesting book. I liked it. Very different set up for a story in terms of writing style, which was refreshing. Easy read, I read it in a night. Tons of quotes!! I actually feel I can relate to the female narrator, which is a bit scary. I hope that doesn't mean my husband will cheat on me! P would be so upset I even said that, just for the record P's not type of guy. Of course to be fair that is probably what she said, let's not go down that rabbit hole! I'm joking he won't, because I'm much scarier than the narrator and don't have a devil baby 😉
"Life equals structure plus activity"
"Their mother died when they were young. Their father was elsewhere. What would it be like to make it so late into life before trouble hit? To always have someone on the front porch, calling you to dinner? The husband doesn't have even a touch of this raised-by-wolvesness."
"But now it seems possible that the truth about getting older is that there are fewer and fewer things to make fun of until finally there is nothing you are sure you will never be."
"Of course it is difficult. You are creating a creature with a soul, my friend says."
"I was thinking about what it would be like to live somewhere so beautiful. Would it fix my brain?"
All The Bright Places by Jennifer Niven

When Finch and Violet meet on the ledge of the bell tower at school, it's unclear who saves whom. And when they pair up on a project to discover the "natural wonders" of their state, both Finch and Violet make more important discoveries: It's only with Violet that Finch can be himself—a weird, funny, live-out-loud guy who's not such a freak after all. And it's only with Finch that Violet can forget to count away the days and start living them. But as Violet's world grows, Finch's begins to shrink.–Goodreads
I like this one, but I kind of hated it at the same time. The story is just a reminder, that life is so damn unfair. It was so sad, but I liked the good parts–how life can be good, but it mixes with the bad.  It was depressing and it pissed me off….but it is a really well written book. 
"But then I realized, believe it or not, it's actually beautiful to some people. It must be, because enough people live here, and they can't all think it's ugly."
"Be the person I'm meant to be and have that be enough."
"The problem with people is they forget that most of the time it's the small things that count. Everyone's so busy waiting in the Waiting Place. If we stopped to remember that there's such a thing as a Purina Tower and a view like this, we'd all be happier."
"The thing I realize is that it's not what you take, it's what you leave."
Before We Met by Lucie Whitehouse

Hannah, independent, headstrong, and determined not to follow in the footsteps of her bitterly divorced mother, has always avoided commitment. But one hot New York summer she meets Mark Reilly, a fellow Brit, and is swept up in a love affair that changes all her ideas about what marriage might mean. Hannah begins to dig into her husband's life, uncovering revelations that throw into doubt everything she has ever believed about him. As her investigation leads her away from their fairytale romance into a place of violence and fear she must decide whether the secrets Mark has been keeping are designed to protect him or protect her . . .–Goodreads
This was a good quick read. It draws you in, a fast paced psychological thriller. I liked it, not much more to say on it. I didn't bother looking for quotes from this one.
A Dark Lure by Loreth Anne White

Twelve years ago, Sarah Baker was abducted by the Watt Lake Killer and sexually assaulted for months before managing to escape. The killer was caught, but Sarah lost everything: her marriage, her child, and the life she loved.Struggling with PTSD, Sarah changes her name to Olivia West and finds sanctuary working on Broken Bar Ranch. But as her scars finally begin to heal, a cop involved with her horrific case remains convinced the Watt Lake Killer is still out there. He sets a lure for the murderer, and a fresh body is discovered. Now Olivia must face the impossible—could the butcher be back, this time to finish the job?–Goodreads
Another quick read, thriller. Not as good as Before We Met. It was a bit more slow-paced and obvious, with long lead-ins. Also, there were a few very descriptive sex scenes, which didn't really add to the story. Meh, the plot was pretty good, but not a top read. I didn't look for quotes in this one either.
Every day a different body. Every day a different life. Every day in love with the same girl.
There's never any warning about where it will be or who it will be. A has made peace with that, even established guidelines by which to live: Never get too attached. Avoid being noticed. Do not interfere.
It's all fine until the morning that A wakes up in the body of Justin and meets Justin's girlfriend, Rhiannon. From that moment, the rules by which A has been living no longer apply. Because finally A has found someone he wants to be with—day in, day out, day after day.–Goodreads
This book was interesting. It left me with so many questions. Where is he going to run to? Maybe he is meant to stay for more than one day? What if he stayed to help, put the person on a better path? I find it a bit creepy that he "chose" a boyfriend for Rhiannon. What is the deal with Poole, what does A think Poole could do to him? It was such a unique storyline. I wonder why Levithan picked age 16 for the characters? What would it be like at 21, 26, 30 etc? The question that struck me most was, what is the purpose of A? But it's funny as most of us don't "know" our purpose. What's the purpose of life? This book really got me thinking. Also, while A doesn't assign she/he, I felt very strongly "he" when reading it. This may be Rhiannon's influence on the story, she clearly was more comfortable with A as a he. I might read the other two books, Six Earlier Days and Another Day.
"She stays in the same spot, anchored by the profound, desperate loneliness of a bad relationship."
"Knowledge is the only thing I take with me when I go."
"And it's not a beautiful sadness–beautiful sadness is a myth. Sadness turns our features to clay, not porcelain."
"And once again I think about how people use the devil as an alias for the things they fear."
"I don't have the heart to tell him that's the wrong way to think about the world. There will always be more questions. Every answer leads to more questions. The only way to survive is to let some of them go."
Dorothy Must Die by Danielle Paige

I didn't ask for any of this. I didn't ask to be some kind of hero.
But when your whole life gets swept up by a tornado – taking you with it – you have no choice but to go along, you know?
Sure, I've read the books. I've seen the movies. I know the song about the rainbow and the happy little bluebirds. But I never expected Oz to look like this. To be a place where Good Witches can't be trusted, Wicked Witches may just be the good guys, and winged monkeys can be executed for acts of rebellion. There's still a yellow brick road – but even that's crumbling.
What happened? Dorothy.
They say she found a way to come back to Oz. They say she seized power and the power went to her head. And now no one is safe.
My name is Amy Gumm – and I'm the other girl from Kansas.
I've been recruited by the Revolutionary Order of the Wicked.
I've been trained to fight.–Goodreads
This is a suggestion I picked up from the link-up. I love Wizard of Oz and the Wicked series, so I thought why not. It was a good book, it was the first one of the series. I liked the characters and the booked jumped right into the action. Looking forward to seeing how the story turns out.
"You don't have to know every turn of the road in order to walk down it."
"Forgiveness doesn't come easy for you, I see. Sometimes you have to bend so as not to break, dear."
I actually have a whole other post drafted for this book, but I think I'm going to save sharing it for a little while. So, I'm keeping this short…buy this book 🙂 I mentioned it in last Monday's post, but this book just totally clicked with me. I recommend it, I even bought a copy after reading the library copy!
What good books have you read lately? Have you ever read a book that totally changed the way you look at something?
For more great books pop over to…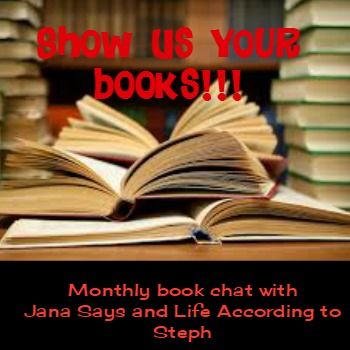 This post contains affiliate links, which means that if you click on one of the book covers and buy the book, I'll receive a percentage of the sale.