I got more reading in than expected this month. When I don't feel good, reading is my go-to activity, even more so than tv if I don't have a headache. September was a good reading month, I really enjoyed the majority of my reads. Thanks to Jana and Steph for hosting the linkup that keeps me stocked for all my reading needs 🙂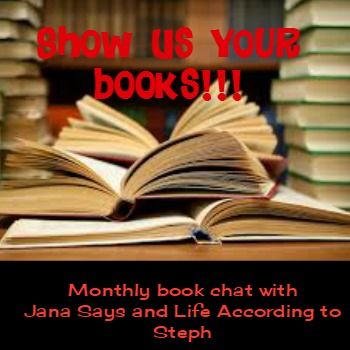 The title is linked to Goodreads and the cover is linked to Amazon. The Amazon link is an affiliated link*. I've pulled the description from Goodreads.
The Library At Mount Char by Scott Hawkins**

Carolyn's not so different from the other human beings around her. She's sure of it. She likes guacamole and cigarettes and steak. She knows how to use a phone. She even remembers what clothes are for. After all, she was a normal American herself, once. That was a long time ago, of course—before the time she calls "adoption day," when she and a dozen other children found themselves being raised by a man they learned to call Father. Father could do strange things. He could call light from darkness. Sometimes he raised the dead. And when he was disobeyed, the consequences were terrible. In the years since Father took her in, Carolyn hasn't gotten out much. Instead, she and her adopted siblings have been raised according to Father's ancient Pelapi customs. They've studied the books in his library and learned some of the secrets behind his equally ancient power. Sometimes, they've wondered if their cruel tutor might secretly be God. Now, Father is missing. And if God truly is dead, the only thing that matters is who will inherit his library—and with it, power over all of creation. –Goodreads

Interesting book/story, it reminded me of Neil Gaiman's American Gods. Personally I think American Gods was better written, but the story itself reminded me of American Gods. I liked it, I felt like the character development was there, and the story hooked me. It did take me a little while to get into the book, but once I did I was hooked. The beginning almost feels like you are starting in the middle of the book or there was a sequel you missed, but it comes together. This book was concluded nicely too, I like a nice tied up storyline. Anyone who enjoys an imaginative story/characters should like this one. It's different kind of story for sure. (btw I had not read the Goodreads descriptor about Neil Gaiman being compared to Hawkins before writing this). **I did receive this book for free for my review from Blogging for Books. 
Where'd You Go Bernadette by Maria Semple

Bernadette Fox is notorious. To her Microsoft-guru husband, she's a fearlessly opinionated partner; to fellow private-school mothers in Seattle, she's a disgrace; to design mavens, she's a revolutionary architect, and to 15-year-old Bee, she is a best friend and, simply, Mom. Then Bernadette disappears. It began when Bee aced her report card and claimed her promised reward: a family trip to Antarctica. But Bernadette's intensifying allergy to Seattle—and people in general—has made her so agoraphobic that a virtual assistant in India now runs her most basic errands. A trip to the end of the earth is problematic.–Goodreads
I enjoyed this book. A good fast-paced read. I enjoyed the characters for the most part. It took me a little while to get into the story though. I felt up and down about how much I "liked" the various characters.
Ready Player One by Ernest Cline

In the year 2044, reality is an ugly place. The only time teenage Wade Watts really feels alive is when he's jacked into the virtual utopia known as the  OASIS. Wade's devoted his life to studying the puzzles hidden within this world's digital confines, puzzles that are based on their creator's obsession with the pop culture of decades past and that promise massive power and fortune to whoever can unlock them. When Wade stumbles upon the first clue, he finds himself beset by players willing to kill to take this ultimate prize. The race is on, and if Wade's going to survive, he'll have to win—and confront the real world he's always been so desperate to escape.–Goodreads

I really liked this book, I was not 100% sold from the description, but I super enjoyed it. I got hooked right away and tore through it. I found it very fast-paced and interesting. To me it was Willy Wonka like, it had that same sense of wonder and rooting for the underdog feel. There were some more technical descriptions I found myself sort of skimming, but I don't think it took away from the story at all. I think even if you are/were never into video games, you would still enjoy this book.
The Good Luck of Right Now by Matthew Quick

For thirty-eight years, Bartholomew Neil has lived with his mother. When she gets sick and dies, he has no idea how to be on his own. His redheaded grief counselor, Wendy, says he needs to find his flock and leave the nest. But how does a man whose whole life has been grounded in his mom, Saturday mass, and the library learn how to fly?
Bartholomew thinks he's found a clue when he discovers a "Free Tibet" letter from Richard Gere hidden in his mother's underwear drawer. In her final days, mom called him Richard—there must be a cosmic connection. Believing that the actor is meant to help him, Bartholomew awkwardly starts his new life, writing Richard Gere a series of highly intimate letters. Jung and the Dalai Lama, philosophy and faith, alien abduction and cat telepathy, the Catholic Church and the mystery of women are all explored in his soul-baring epistles. But mostly the letters reveal one man's heartbreakingly earnest attempt to assemble a family of his own.
A struggling priest, a "Girlbrarian," her feline-loving, foul-mouthed brother, and the spirit of Richard Gere join the quest to help Bartholomew. In a rented Ford Focus, they travel to Canada to see the cat Parliament and find his biological father . . . and discover so much more.–Goodreads

This was a different sort of story, and I wasn't hooked right away, but I enjoyed this book. This is a book about the characters. I found it so different than a lot of other books I've read. I'm not sure how to describe it though. 
The Power of Habit: Why We Do What We Do by Charles Duhigg

In The Power of Habit, award-winning New York Times business reporter Charles Duhigg takes us to the thrilling edge of scientific discoveries that explain why habits exist and how they can be changed. With penetrating intelligence and an ability to distill vast amounts of information into engrossing narratives, Duhigg brings to life a whole new understanding of human nature and its potential for transformation. –Goodreads

Really well written, and researched book. Not just fluff. I loved the mini-stories throughout the book, and often forgot I was reading a nonfiction book. For anyone who struggles with building a routine (like me and my mornings) I think this is a super beneficial read. 
I know a plenty of people (lists) rave about this book, but I just could not choke my way through it. I hated how he writes and how he randomly throws in unrelated stories about himself. I checked it out twice trying to just get through it and gave up around the 50% mark. The author just strikes me as so inauthentic. I think the mark where I was just done with him was his description of how he used a few loopholes to win the Chinese wrestling match. Puke!
This post contains affiliate links, which means that if you click on one of the book covers and buy the book, I'll receive a percentage of the sale.
What was the best book you have read recently?