This month was a bit of a flop reading wise. I'm actually quite proud of myself with doing at least one nonfiction a month lately, and this month even two!! I'm really getting into the self-help genre…who would have thunk it 🙂
As always, thanks to Jana and Steph for hosting the linkup that brings all us book nerds together 🙂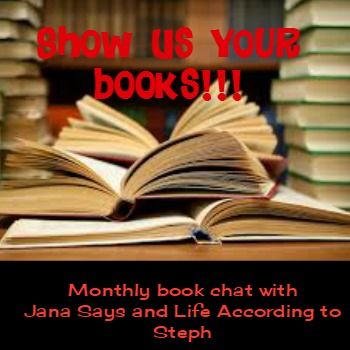 The title is linked to Goodreads and the cover is linked to Amazon. The Amazon link is an affiliated link*. 
The Devil You Know by Elisabeth de Mariaffi

First of all, I mixed this book up with another one by the same name…FAIL. I have the other one on hold, but did not realize my mistake until I read this one. Huge palm plant. I considered putting it down about 20% in. The writing is not good, I hated how it was written/presented. It was like reading a story told by someone who mind keeps wondering. It could have been a much better book with better editing. The storyline did pull me in, but even by the end I was meh with the whole thing. This was not a good use of time.
I'm a bit torn on this one. I liked it, but felt like it was drawn out. The plot was good enough, and the writing was good, but it wasn't all that compelling. I don't know, I just wasn't pulled into the story like I would have liked. I feel like it could have been shorter and not lost anything. I'm glad I tried out one Hill's books, and would give him another shot. I could certainly feel some similarities in his writing and King's. I think I might have thought that even if I didn't know prior that he is Stephen King's son.
The Girl With A Clock For a Heart by Peter Swanson

I felt the story pulled me in immediately but didn't go anywhere. I seriously, seriously hated the end. I thought maybe the book had a cliche and it didn't load fully. I'm wondering if I should bother with the The Kind Worth Killing. For me, a huge part of the story is to find out what happened.
Life and Other Near-Death Experiences by Camille Pagan

This was an Amazon free book. I didn't care for it, but pushed through to the end. One of these days I might learn to just put a book down that I'm just not that into. I didn't like the way it was narrated and found the main character annoying/boring/unrealistic…all of these at different points while reading.
The Time Chamber by Daria Song: A Magical Story and Coloring Book

This was a Blogging For Books** order. It has a beautiful cover, and I love the copper colored accents. Very light on story and plenty of illustrations. The "story" as it is, is really maybe a totally of 10-12 sentences spread throughout the book. As far as a coloring book goes, it certainly has some beautiful illustrations and pages. Some pages/elements I don't think were well designed for coloring. I think the detail and artistic illustrations makes it a good addition to the adult coloring market. However the story is very child like, but many of the illustrations have such small details, it may not be that successful as a child's coloring book. I've included a few sample picture pages below.
Esther (Local Adventurer) did a whole post on adult coloring books if you want to see more options. Also if you live in San Diego, Pigment had a TON on my last visit at the end of October. **I received this book from the Blogging for Books program in exchange for this review.
I Know How She Does It: How Successful Women Make the Most of Their Time by Laura Vanderkam

I surprisingly felt like I got a lot out of this book. This book is centered around working moms and how they use their time. There were parts that I very briefly skimmed or skipped since they don't apply at all to my life, like how to make "quality" time with your kid (tips on activities not how to "make" the time). Even though it wasn't geared towards me as a reader I did find it to offer good advice, and more importantly, it was thought provoking. My personal take-aways included:
Be more mindful with my time. I know I 100% am not that intention or mindful of how I spend my time. I would like to work on this and in fact you can see a little of this reflected in my November goals post.

Find and plan activities I (or me & P) will enjoy and schedule them. Not rocket-science with this one and we certainly do a lot, but we also fall into ruts or the "what do you want to do, I don't know what do you want to do". Make better use of weekday evenings, we really have fallen into a bit of a rut here. Prior to a few months ago we would at least schedule one dinner out a week, but we totally let that go. We picked it back up a few weeks here at the end of the month, but I want us to be more mindful.  

Similar to the above, but more me oriented, keep a list of things I "want" to work on, instead of things I feel like I "should" work on.
The Life-Changing Magic of Tidying Up by Marie Kondo

Mixed feelings on this book. I thought she had some excellent points/suggestions, and I could really get a sense of her passion. However the beginning and the end of the book seemed very repetitive, and felt like filler. The meat of the book is in the middle.  In the beginning I was thinking ok where is this going, as she talks over and over about what she use to do when she came home from school. I can appreciate some of her theories. Personally, I've been trying to buy and keeping clothes that I only love, and feel good in. As I wear items and they annoy me or I just don't feel good in them, I've been discarding them. I really question how well this could be applied to families or men in general. She only mentions one client specifically that was male, and only one couple, the rest seemed primarily to be women. I think this is a good book to read, especially if you struggle with overflowing clothes or other areas, it could help you change your mindset a little. Of course some parts of the book I just can't, but I'm not going to be judgemental on them here as it may really make a connection with others 🙂 Some advice really hit home, like not downgrading items to loungewear (totally something I do and either don't wear or don't feel comfortable in), and feeling guilty about items I've hardly used. I think this book was a worthwhile read for me.
What is one "self-help" you have read that really got you thinking or changed your lifestyle/habits?
Have you joined the latest trend and tried out an adult coloring book?