I feel like this month had some pretty good book picks. This linkup has certainly gotten me to read more than I was a year ago so yay!! I've always loved reading, but having a good go-to list certainly helps keep me in the habit. Thanks to Jana and Steph for hosting!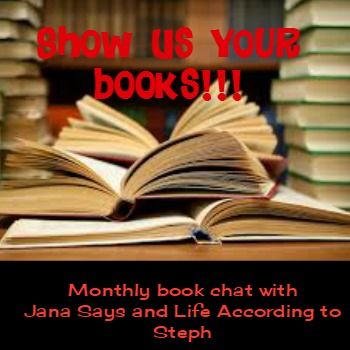 The title is linked to Goodreads and the cover is linked to Amazon.
Eleanor & Park by Rainbow Rowell

Loved this book! I'm a fan of Rowell (it's official)! I liked both the other books I've read, Landline & Attachments. This one I liked the most. The ending kind of left you hanging, but I also really liked it. It's kind of like you could make it sad or happy yourself, very clever. I don't want to completely ruin it by saying the end, but I would love to hear other's thoughts on it. The characters were so well developed. Rowell really rocks at developing characters you can't help but love. She has a real talent, that you don't see in many authors. I think I'm even going to have to read FanGirl now, even though the descriptor does not appeal to me.
Orange Is The New Black by Piper Kerman

The show and the book are worlds apart. The show (not surprising) is highly dramatized and the characters seem to be bits and pieces of the characters from the book. The names are not even the same. I really wonder if she stayed in touch with any of these women she so fondly writes about or tried to help them. I have a hard time finding Piper highly likeable in the book and the show, I see her a bit entitled (or something along that line). I don't know exactly what it is that strikes me as wrong with her telling of the story. Overall, a good read, good writing, and it flowed well. I'm a bit disappointed a few of the book characters have not made it on the show (yet?).
The Devil You Know by Trish Doller

Ok, let's try this again 🙂 This "The Devil You Know" was much better than the one I read last month. The writing was much better. This was one of those "guilty" easy reads, finished in about a day.
This book grew on me. I wasn't hooked right away, but by the end I was like huh not a bad book. I found the characters a bit annoying though. 
"It's regretting yesterday or over-thinking tomorrow, that's when ugliness comes in, right?"
"Why do we do that to ourselves? Why do we stay away so long from the places that make us whole?"
The Kind Worth Killing by Peter Swanson

It drew me in very quickly, and I finished it in a day. I liked how fast the story moved, but overall just an ok read for me. I didn't really care for the conclusion.
Forgive Me, Leonard Peacock by Matthew Quick

The premise/plot is not one I would gravitate towards, but it's a good book. Quick is so good at character development and the way he presents his stories. He gets the human condition, and expresses it beautifully. I felt the same about The Good Luck of Right Now, odd plot but the characters and what they express make the book.
Is Everyone Hanging Out Without Me? by Mindy Kaling

I loved this book. I found it laugh out loud funny. More entertaining consistently than I think I felt about Poehler or Fey's book. I read a lot of reviews where people seemed meh about this book, but I loved it. She is so spot on with so many of the observations. I mean come on, guys taking FOREVER to get their shoes on…it's true in my house. I felt like I was laughing and mentally say yes, yes, so true, so true, through most of the book. Mindy can stuff it over her cap sleeve comment, I love cap sleeves and they look good on me 🙂 I did have to use the lookup function for some of the name dropping. I always need a reference when people talk about most famous people anyway, so it could just be me. She's funny, the book is funny. I'm definitely reading the next one. While we are on the topic (sort of), I feel like now that Hulu has taken over The Mindy Project, it is taking a downhill turn. I just don't find it that funny, it's jumped the shark and seems more awkward than funny to me. Just needed to put that out there 🙂
"As my mom has said, when one person is unhappy, it usually means two people are unhappy but that one has not come to terms with it yet."
What was the best book you read last month?