Had a great reading month in December!
The first thing I must share is that, Miriam (Farm Girl), finished and published her very first book!!
I am SO proud of Miriam for following through on a dream and putting herself out there. I was beyond thrilled to get to push buy on Amazon and read her book. I was smiling ear to ear reading it, and crying a little too. Nothing I can write here will do her justice. I don't push you guys much here to do anything, but I demand you go buy this book 🙂 GO NOW, PRESS BUY!! Seriously, it's your lose if you don't listen to me.
In other December reading news, I had several books that really got me thinking and are changing my daily actions, which I love. As always when we talk about books it's with Jana & Steph 🙂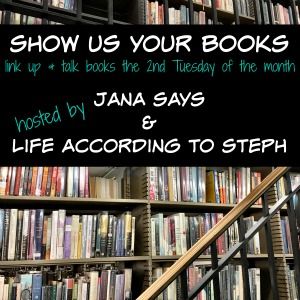 A Good Marriage by Stephen King

I just randomly picked this up between books. It's more of a short story than a novel, and this edition contained the story 1922, which was actually longer than A Good Marriage. Both were ok, but not my favorite King writing. A bit more old school thriller/mystery as in the lines of Hitchcock. Apparently they made a movie of A Good Marriage, I'm going to have to look it up. That is what drew me in to choose this book, as I was waiting on holds 🙂
Steal Like An Artist by Austin Kleon

LOVED this book. Very quick read, but so many good tidbits. Sometimes you need to hear out loud (read out loud) things that are common sense, but click when you see them on paper. I felt like there was so much good advice in this book. I get really overwhelmed with the idea of originality especially with spending so much time online, so this resonated with me to get out of my own head. I pulled a few of the passages that I really felt rang a bell with me…
"What a good artist understands is that nothing comes from nowhere. All creative work builds on what came before. Nothing is completely original."
"If we're free from the burden of trying to be completely original, we can stop trying to make something out of nothing, and we can embrace influence instead of running away from it."
"You are, in fact, a mashup of what you choose to let into your life. You are the sum of your influences. The German writer Goethe said, "We are shaped and fashioned by what we love."
"…if you try to devour the history of your discipline all at once, you'll choke. Instead, chew on one thinker–writer, artist, activist, role model–you really love. Study everything there is to know about that thinker. Then find three people that thinker loved, and find out everything about them. Repeat this as many times as you can. Climb up the tree as far as you can go."
Better Than Before by Gretchen Rubin

Loved, loved. This is a book that I can say 100% changed actions and something I'm still working on applying today. I took like five pages of notes and it really got me thinking about how I set goals, and daily routines. This is one of my top books for getting me thinking and putting things in a different mindset for myself. Very thought provoking, but also very actionable. Prior to this book, I had not read The Happiness Project. Embarrassingly enough I didn't even realize she wrote The Happiness Project, though she referred it often in Better Than Before (however she never said "my" book). She breaks down personality into four types when it comes to building habits and approaching goals: Upholders, Questioners, Obligers, and Rebels. She then goes through different approaches to building habits and how the different types can best use these approaches. I just loved this book, and had so many good ideas while reading it. I've been struggling with getting a daily routine together, and this book was wonderful for me.
The Happiness Project by Gretchen Rubin

Of course after reading Better Than Before, I checked this out immediately. The books certainly flow into one another, though I think I might have looked at Better Than Before with a more fresh view of the author than if I had read The Happiness Project first. I really liked this one too, though it felt less actionable than Better Than Before. Honestly, it's hard to separate the two completely in my mind, once I finished this one. The Happiness Project reads to me much more of a personal story, where Better Than Before is a bit more scientific based. I liked The Happiness Project too and it had some great lessons about being more mindful. I love the idea of building your personal commandments and really evaluating what do you enjoy, versus what you "wish" you enjoyed. This is an exercise that I am absolutely working on and bringing into my life.
Black-Eyed Susans by Julia Heaberlin

Nice fast-paced plot that draws you in quickly. I think the "love" story was so superfluous to the story, it could have so easily been left out. It seemed so silly to add that in and not tie it better to the plot or emotions of the character…other than hook-up scenes and a splash of jealousy here and there. I felt like the ending was presented in a clunky manner, and super rushed. Honestly they could have cut out some of the "love story" and added to the end instead of cramming it all into the Epilogue. Good entertainment value but overall the characters and plot could have used some refinement as you got further into the story.
I hated the back and forth jumping in time of this book. Often times jumping around does not really bother me, but in this book it did. I considered giving up on it half way through, because I was so annoyed. To me it was hard to really get into the plot. Of course right about when I thought about giving in, they stopped jumping around quite so much. The plot is interesting but I was not blown away with this one.
The Psychopath Test by Jon Ronson

What an interesting read! I really enjoyed how he organized the book and found it very intriguing and engaging. I enjoyed this book much more than I expected. I thought the topic was interesting so I thought I would give it a try, and found the author very witty and engaging. Not a dry book, so if you have an interest in psychology at all, I think you would enjoy it.
I like how straightforward this book was. I think there was some good advice there for anyone in business. I would have loved to share some that knowledge, but my kindle did not save my highlights 🙁 I'm so sad.  
What books are on your 2016 reading list?
P.S. As a total side note, I'm really focusing on building my business this month. January has started off great. Anyway that is why I've been quiet over here, I just need to put all my attention and energy to get BHG off the ground 🙂 So sorry for the lack of interaction lately….don't worry I'll be back when things get smoother.