Hello All! I made it back to the blog for Show Us Your Books! I'm combining two months for this post, and really most of these were read in January. Much like blogging, reading has also gotten a bit of a bump when it comes to prioritizing time. However, reading is one of the few activities that really relaxes me (ie I can focus on it and only it), so I do try to get some reading time in at night or in the morning. This is what I've been reading lately…
The Silent Land by Graham Joyce

It was a good read. I sort of figured out what was probably going on midway through, but it was a well written, well developed story. I feel like it's a good pass the time read, but not too fluffy either.
I have so enjoyed both her book. I find them laugh out loud funny, like I was reading this one at the airport laughing out loud. I can't say I like one over the other one, I enjoyed them both. I did like how this one really got into her career and how she got The Mindy Show. Here were a few of my favorite quotes:
"We will never come home to each other again and we will never again have each other's undivided attention. That version of our friendship is over forever."
"If you've got it, flaunt it. And if you don't got if? Flaunt it. 'Cause what are we even doing here if we're not flaunting it?"
"People get scared when you try to do something, especially when it looks like you're succeeding. People do not get scared when you're failing. It calms them."
Loved, loved this book! I love all of her books 🙂 Her character development is what makes her books. I'm always so surprised at how much I enjoy her books, most of the time reading the summary, I think, nope not for me and then I get sucked right in and LOVE it. I didn't even mind the fan fiction. I have to say I'm not hugely drawn to the concept of Carry On, but I'm totally going to read it, because well I've learned my lesson. Just for fun I decided to rank her books: 1. Eleanor & Park 2. FanGirl 3. Attachments 4. LandLine. It was a bit a toss up between 2 and 3. What has been your favorite?
Welcome to Night Vale by Joseph Fink, Jeffrey Cranor
I was not a fan. I kept thinking that it would kind of come together, and was disappointed. I could not get into the story, the writing rhythm totally threw me off. I like books where I can get lost in the story and this was not it. It is interesting that it started as a podcast though. One day I will learn just to put books down that I don't really like, but it doesn't seem like that will be anytime soon 🙂
Pretty Girls by Karin Slaughter

This book was one of those that got you hooked immediately, and I stayed up way too late reading. This book was all kinds of crazy, and twists and turns (though lots that you saw coming). It is a bit on the long side, but I would rather get more closure than less.
Meh. I don't have anything much to say with this one. I just felt very blah about it overall, not the worst book, but didn't really love the characters, the plot, or how it was presented. I wasn't a fan of the jumping back and forth in time either. Also, the side story on the mom and detective was more annoying than sweet to me.
Thank you to Steph & Jana for always keeping us well stocked in the reading department!!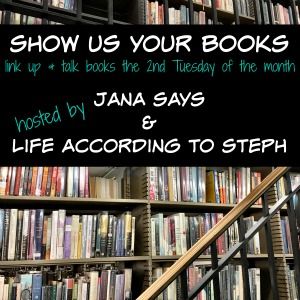 What have you been reading lately?